Upgrade Vera Legacy Controllers from UI5 to UI7 Firmware
Keeping your Vera unit up to date is easy, and assures that you are running the latest, most secure firmware.


This guide will teach you how to:
Upgrade Vera 3 and VeraLite to the UI7 firmware version

Prerequisites:

You will need the UI7 firmware upgrade URL, which can be provided by Customer Care on request
You will need a computer

NOTE: Due to software limitations, the UI5 firmware needs to be updated to the latest available firmware manually.

What gets copied when the firmware is updated?
Users and device settings
Your Z-Wave network
Scenes and other automation
All plugins that have been updated to work with UI7*

*Exception: If you have installed 3rd-party plug-ins or custom scripting, you may need to re-install these manually after the transfer has been completed. Not all 3rd-party plug-ins are available for the current UI7 controller app. (For this reason, you should check if your plug-ins are acceptable for UI7 before upgrading your firmware.)

Upgrading your controller
Login to your legacy Vera 3 or VeraLite controller using the portal https://cp.mios.com/ or by its local IP, if you know it
Go to Setup > Firmware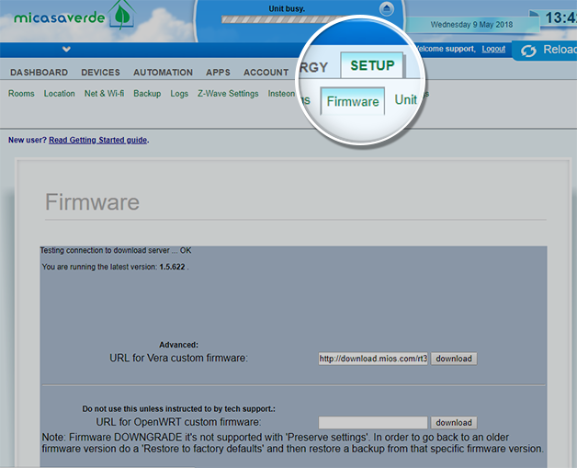 3. In the advanced field, paste the URL for your Vera custom firmware (see prerequisite 1.a)

4. Click "Download". When the firmware starts downloading, the top notification header will say "Unit busy" for a couple of seconds

5. Press "Save backup" (it will not be used - it is just an additional layer of data security)

6. Click "Start Upgrade"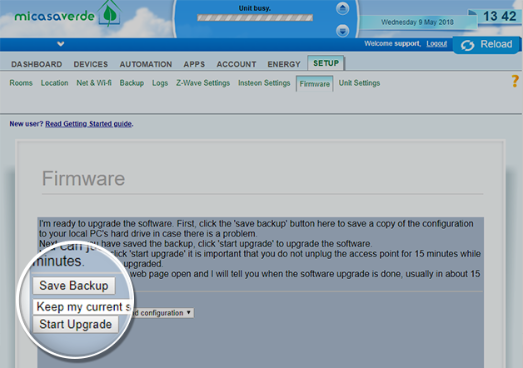 Congratulations!
Welcome to UI7! Vera UI7 is the most sophisticated, powerful, and compatible home controller app anywhere.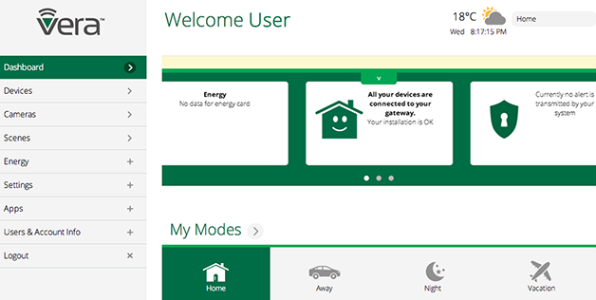 A few things to know:

The login portal changes from https://cp.mios.com/ to https://home.getvera.com/
Once you are in the new portal, you will have to set up a new account and connect to your Vera. You can do this by clicking "I have a new controller to set up," and then following the directions of the on-screen wizard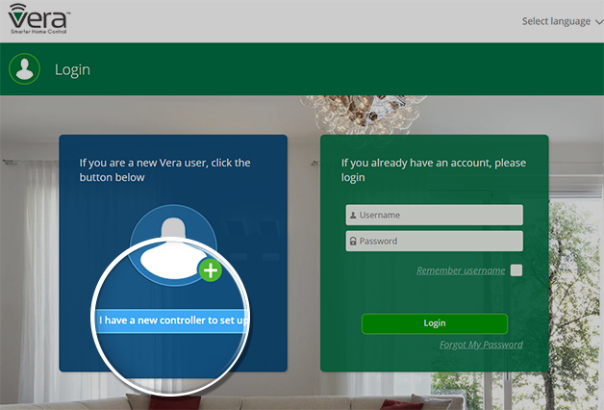 Download the VeraMobile™ app now.