Getting to Know Your Vera Alerts
Your Vera controller can notify you by text or e-mail when there are disturbances in your system, such as security breaches, alarm tampering, devices not responding, and internet connection issues.

Note: Alerts are used to track all user activity, as well as automated events.


This guide will teach you:
The existing automated system alerts sent by Vera and how they work
How to configure your own alerts


Where to look for alerts on the Vera UI
The Vera dashboard displays the most recent device alerts at the top of the page. The list is collapsed by default so that only the last alert is displayed, but you can expand it by clicking the downward arrow icon.



The full history of alerts generated by the system is available via the Vera side menu by clicking on "Users and Accounts Info," and then pressing "Alerts."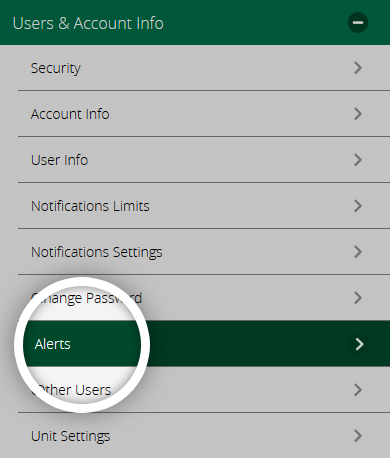 You may filter them by date and time using the available range picker, description, source (the device that generated the alert) and type.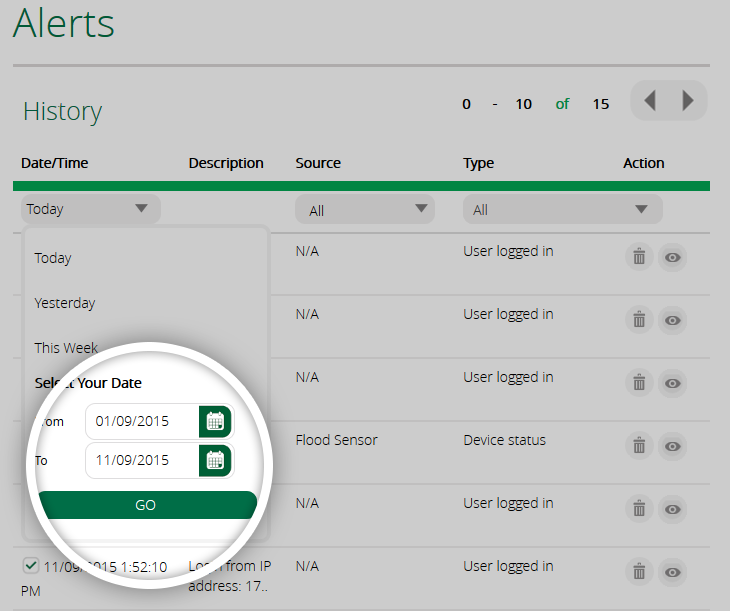 Alert Types
| | |
| --- | --- |
| Camera sent image | Camera sent video |
| User-created trigger fired | Device changed state |
| User logged in | Controller came online |
| System error | Email validation |
| SMS validation | System message |
| Test SMS/Mail | Burglary |
| Fire | Internet down |
| Controller offline | Device status |
| Installer access | Installer access active |
| Welcome email | Installer welcome email |
| Invitation email admin | Invitation email simple guest |
| Invitation email notifier | |


Create an alert

To create an alert for a specific type of event, please refer to the article Notifications with Vera.


Other Types of Alerts

Your Vera system's mode selection controls when sensors are "armed" and when they will send notifications. For example, the home mode will not trigger any motion sensor or door/window sensor, as they are disarmed. However, any other security threat will send an immediate alert. To learn how to override the default settings, please refer to the article getting to know your Vera modes.


In the final step of a scene creation wizard, you can enable user notifications whenever the scene is executed. To learn more, check out these articles:


If you have a VeraSecure controller, you should see the "cellular" card on the Vera dashboard. This card displays the amount of data used out of the 5MB plan. When the percentage reaches 80% and 90% respectively, you will see an alert in the UI, and you will receive an SMS alert telling you that each additional 5MB is $4.95.