Controlling Your Vera System
Easy, Powerful Control of Your Home or Small Business
Vera UI7 is an extraordinarily powerful and easy to use tool to control your home or business. The Vera UI7 Dashboard lets you quickly check in and control many devices at once

The Modes makes it easy for you to quickly change all the settings in your home when you enter, leave, or go to bed. Along the left side of the Vera UI7 Dashboard are the navigation tabs. Most of the time, when using your Vera system app, you will only need the top dashboard tab and the bottom logout tab.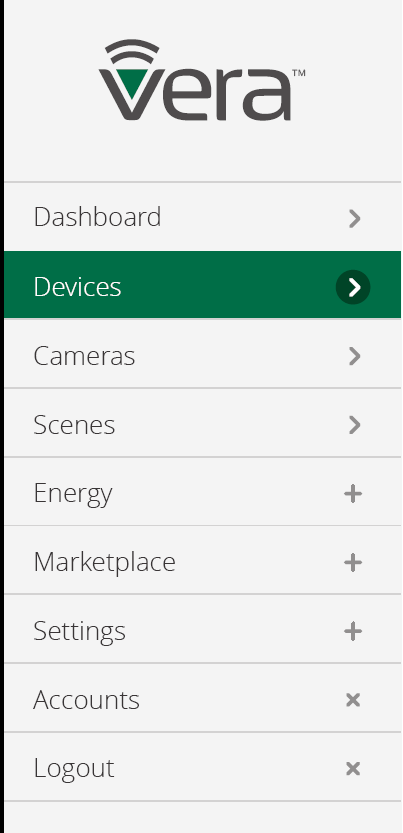 Dashboard Tab
The top tab, which is the default whenever you log in to your account, is called "Dashboard." Most of the time, the Dashboard will have everything that you need to monitor and control your system. It shows your favorite devices, lets you control which Mode you are in, offers quick shortcuts to switch lights on and off, and provides you with notices and status updates for your entire Vera system. (More details can be found in an earlier section, "Vera UI7 Dashboard Basics.")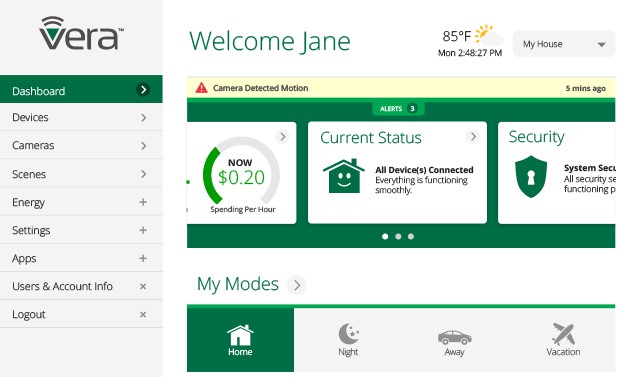 Note: Your Vera system keeps working 24-hours a day regardless of whether you are logged in to the dashboard. Your Vera system will remain in the Mode that you last set it to until you change it. Your system will remember all of the settings you create, and continue using them after you log out.


Control Vera with a Mobile App
You can also control your Vera system using your iPhone, iPad, Windows or Android phone or tablet. Using the Vera mobile app, you can control Vera from your home, or from anywhere in the world. All you need is internet. For more info and complete download details for each platform, visit: