Controlling your Vera system: Apps & Plug-ins
Plugins are dedicated software tools created to expand your Vera Smart Home Controller experience by allowing you to add new devices, features, and functionality with just a few clicks.

This guide will teach you how to:
Browse through the list of plugins installed on your Vera controller
Install plugins straight from the Vera UI
Update an installed plugin
Uninstall a plugin
Easily access and install the Vera compatible mobile apps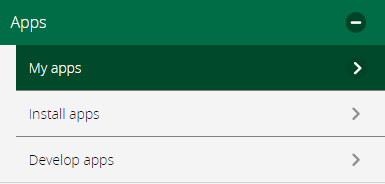 The "Apps" menu located in the Vera side panel comes with 3 options:


"My apps" Tab

My apps offer quick access to the applications installed by Vera users.

You might discover items you didn't realize were installed, especially plug-ins for devices in your system that were installed automatically. These plug-ins enable devices to work with Vera - for instance, if you have a VeraSecure controller you will notice that the "VeraSecure" plugin is pre-installed in order to enable the cards features (Battery, Cellular, and Storage Cards), as well as the Siren and Tamper Switch device functionalities.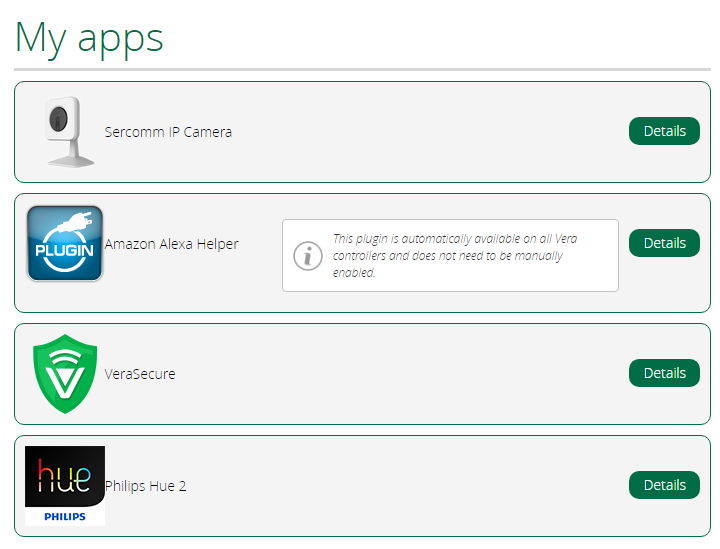 "Install apps" Tab
The Install apps screen allows browsing through the plugins overview. To access the Marketplace, please refer to this link.

To install a plugin, simply select its application from the list or use the integrated search tool, click on "Details" to check whether it is available for installing,


then hit "Install"

and confirm the installation.


You will shortly receive a pop-up message saying that the application has been installed, then you will be notified that the configuration process is in progress - this shouldn't take more than 2 minutes.

Once the configuration has successfully finished, the pop-up window is updated with an "Exit" button and a message saying "It is now safe to exit this screen". The newly installed plugin will be listed under "My apps".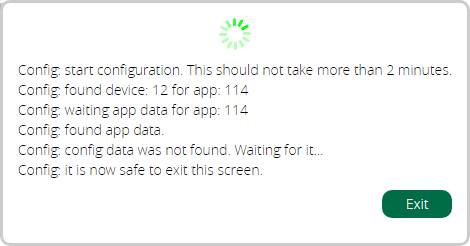 Update Installed Plugins
By default, installed plugins are set to be automatically updated. If you wish to update a plugin yourself, locate it in the "My apps" list, click on "Details",


then uncheck the case "Auto Update". In case there is a new version of the plugin available you may choose to upgrade it by clicking on "Update App".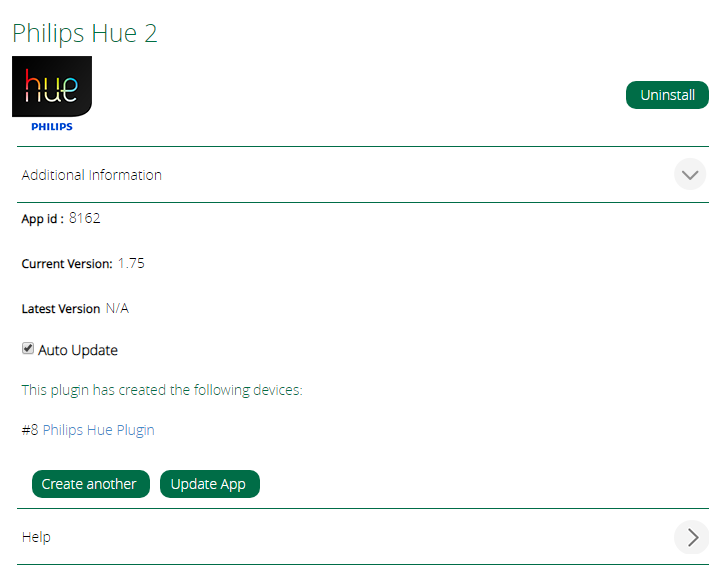 Similarly to the install process, the upgrade operation is executed in the background and it should take no more than 2 minutes to complete.

Remove installed plugins
To remove a plugin, simply go to the "Details" screen, click on "Uninstall" and confirm.


"Develop apps" Tab
The Develop apps screen allows writing your own plugins using Luup Lua.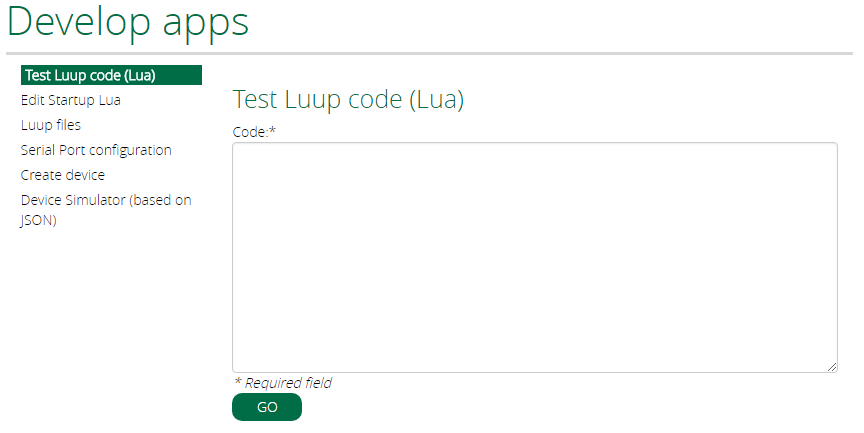 Vera Mobile Apps
What about accessing your Vera Smart Home system from outside the home?

The dedicated Vera Mobile apps allow you to login to your Vera from anywhere in the world and check or control your Smart Home.
Depending on the mobile device your are currently working on, install one of the apps linked below:


- Requires iOS 9.0 or later and works with iPhone, iPad, and iPod touch.

- Requires Android 4.1 and up.

- Compatible with Windows 8.1, Windows Phone 8.1 and Windows 10.