One of the great features provided by Ezlo Atom is that you can stay clued in on what's going on with your smart home system even when away, by means of notifications.
You'll be notified of events in your system by either email or SMS text messages, or via push notifications so that you're never left in the dark as to whether a scheduled scene took or didn't take place, or something that wasn't supposed to happen occurred.
A great way to improve security is by installing some sensors, which there are many types of to suit your needs - with the most common ones being motion sensors and door/window sensors. If a window is opened while away, the sensor will detect that and immediately alert you. The same goes for motion sensors, which we'll promptly report unwanted motion in a particular area.
---
There are various types of notifications and ways of implementing them.
Notification types
As mentioned above, there are three notification channels used: email, SMS, and push notifications. The first two are self-explanatory; push notifications are pop-up messages that can be seen at the top of your screen in the notifications panel, send by the Vera Mobile App.
Implementing notifications
The events that you can be notified of are either the execution of a scene or sensor alerts.
In the first case, let's assume, for example, that you've set up a scene that's supposed to automatically turn on or off a number of lights or lock/unlock a particular door lock at a certain time everyday. You can choose to be notified whenever this scene runs so that you know if it did actually run or if, conversely, it failed to do so.
You can choose which users are to be notified every time a scene runs during the last step of the scene setup process (go here for a breakdown of the scene structure and here for a more specific example of a scene).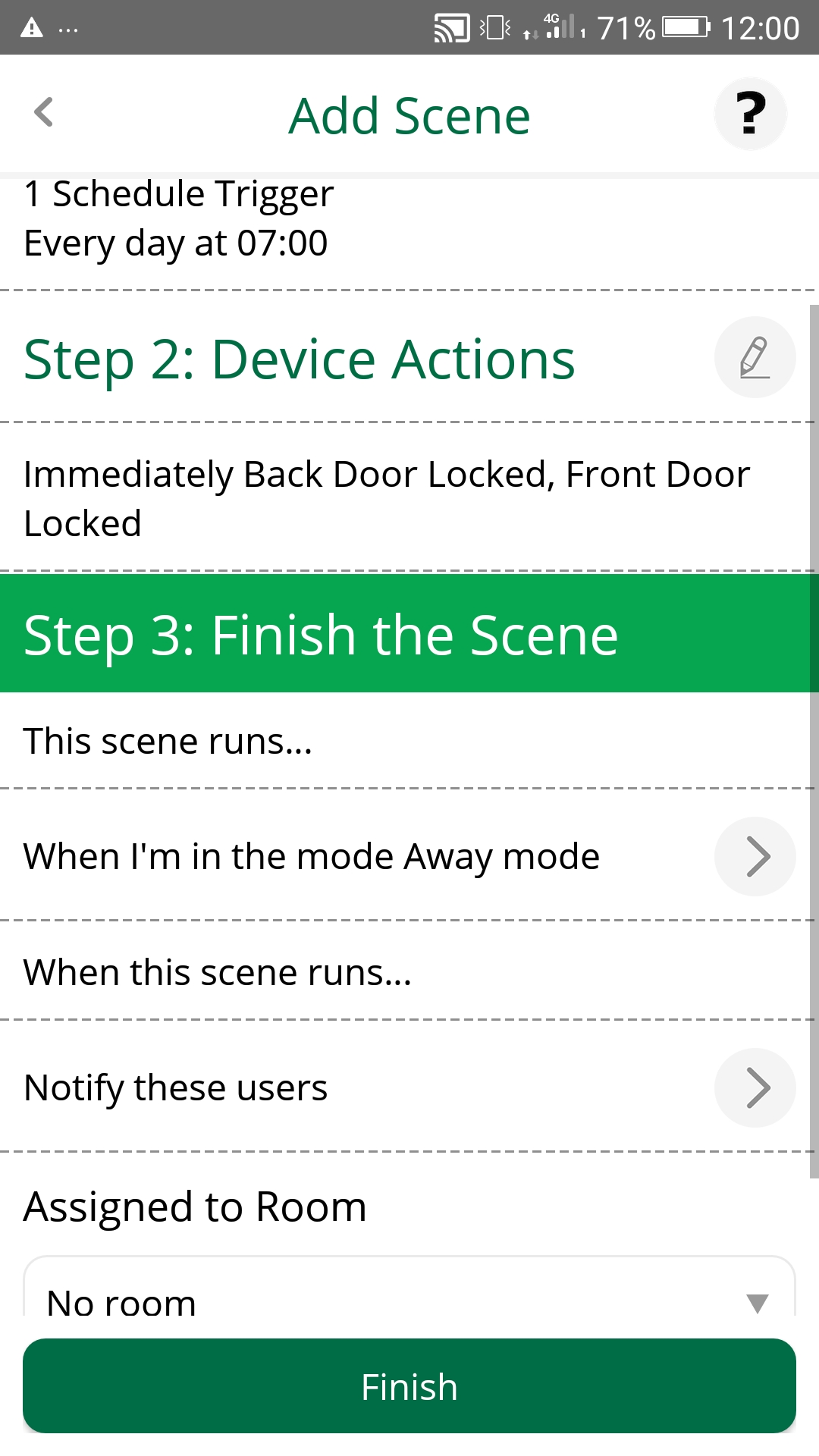 As for the second case, let's assume you have a number of sensors installed around your house meant to alert you to unwanted or suspicious activity.
Sensors can be either armed (the toggle switch next to the sensor is set to 'on', appearing in red) or disarmed (the toggle switch is switched off, grayed out), and either tripped (the little wave icon above is red) or untripped (wave icon is grayed out) at the same time.


These are significant to the way sensors are used, and that is in conjunction with the House Modes. The default settings for the house modes is that sensors are all disarmed in Home Mode, and are all armed in the Away, Night, and Vacation modes (you can customize this as needed). Users (go here for more information on users and permissions) will only be notified of armed sensors being tripped.