Scenes: Create timers
Turn lights on and off according to a schedule, or based on local sunrise/sunset times. Timers can control any device — lock doors at night, set thermostat schedule, close garage door in the evening.


This guide will teach you how to:
Create a basic timer for your light switch


Create a timer:
Select Scenes on the Dashboard app and then click + Add Scene

Under Step 1: Select a Trigger choose Schedule
Select Daily, Weekly, Monthly or Once (one-time)
Select day, date, and time of day, sunrise, sunset etc. as needed
Click Validate

Select Device you want to have triggered (such as light, door lock, etc.)
Click Next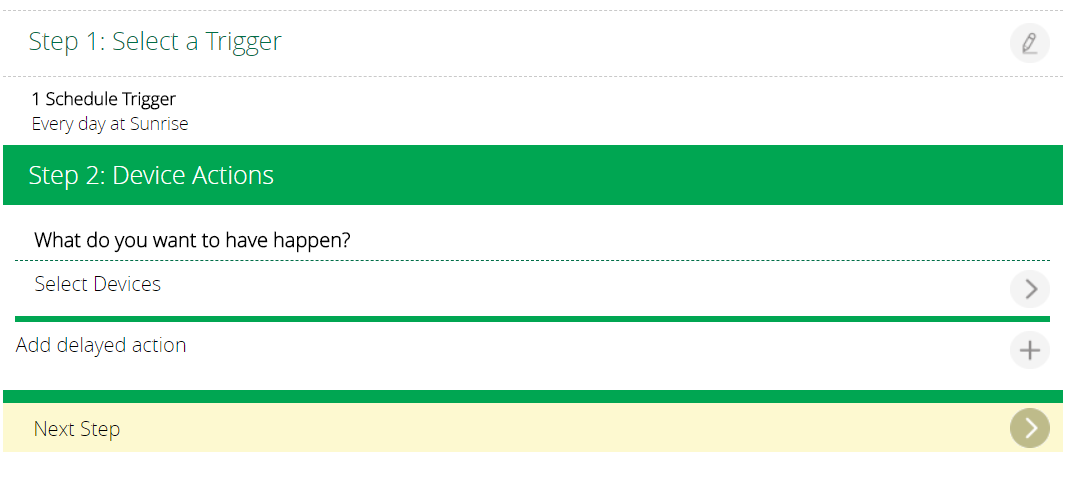 Select what the device should do when triggered (such as on, off, unlock, etc. depending on the device)
Click Validate


In Step 3 (Finish the Scene) you can modify which modes the timer will run in (default is all modes) and whether a notification should go out. You can leave these settings unchanged.

​Tip: Add delayed action to turn OFF the light a few minutes/hours later.


Scroll down to the bottom to Name Your Scene and make up a name (such as "Sunset Lights ON" to shut the light off every night at the same time)
Click Finish

You are finished and can go back to the main Dashboard screen.